NRDC Taking Legal Steps to Protect the Great Lakes from Toxic Algal Blooms
Posted March 14, 2012
Tags:
You know you've got a big problem on your hands when you can see it from space.
Today, NRDC and a large coalition of partner organizations announced the filing of two separate legal actions to put pressure on the U.S. EPA to address a problem that big: one that creates a low-oxygen "Dead Zone" in the Gulf of Mexico larger than Connecticut that cannot support life, but also creates smaller dead zones and toxic blue-green algae blooms throughout the country. My colleagues Jon Devine and Ann Alexander have blogged about the potential for these suits to force long-overdue action to address the steady flow of pollution down into the Mississippi River from Chicago all the way down to Louisiana and into the Gulf. But this is a huge problem in Lake Erie and throughout the Great Lakes region as well – and lawsuits we've announced today could also help force action to protect the Great Lakes from further harm.
When you look at the Great Lakes from space, most of it is a broad and serene blue. But along the nearshore areas, especially in the summertime, the colors change. Lighter blue shading in some of the lakes blends into darker mats of green in Western Lake Erie. This is blue-green algae, which produces harmful toxins and can help cause low-oxygen zones that impact the productivity of Great Lakes fisheries, the attractiveness of the Great Lakes as a place to visit and recreate, and even the quality of drinking water drawn from the Great Lakes.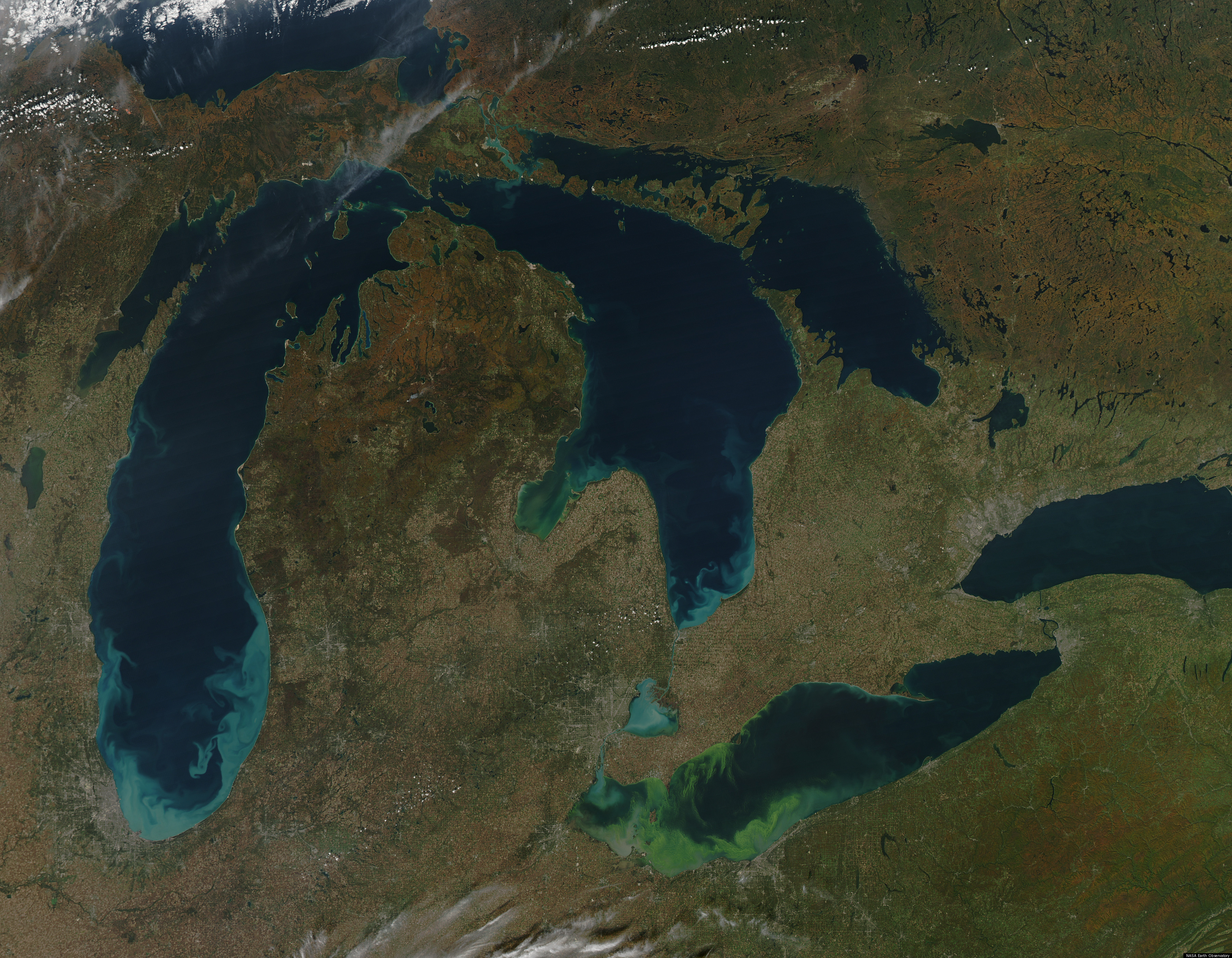 In some parts of Lake Erie, the water is so toxic that family pets are warned not to drink it and beaches have had to be closed during the height of tourist season.
The major cause of these algae blooms is water pollution – and phosphorous especially in freshwater bodies like the Great Lakes. There is phosphorous in a lot of our fertilizer, which runs off of farm fields and lawns when it rains. And there is phosphorous in human waste, which we dump into the Great Lakes after it goes through wastewater treatment plants or let spill out into the Lakes when our sewers overflow.
And the problem is getting worse. As OnEarth Magazine chronicled in an excellent piece last August on Lake Erie:
After a decades-long absence, blue-green algae is again flourishing in Lake Erie -- and it's never been worse than it is this summer. The algal infestation is just one of many factors that biologists in Ohio, Michigan, and elsewhere say are pointing toward an ecosystem in danger of collapse.
Elsewhere in the Great Lakes, this is also a growing problem, one that is compounded by the steady drain on the Lakes' vitality from the invasive zebra and quagga mussels that carpet the bottom of the lakes and filter out plankton at the base of the food chain, literally sucking the life out of the ecosystem.
In some parts of the Great Lakes, invasive mussels have filtered out over 80% of the plankton, and fish populations have been reduced by as much as 95% as a result. This lowers the resiliency of the Great Lakes system, making it more vulnerable to other stresses. Add rising temperatures, lower lake levels, and increasing extreme weather events due to advancing climate change, and these parts of the Great Lakes that are already struggling to stay alive will likely see their struggles continue.
We need to take action, and it must begin by putting strong, science-based standards in place that will determine what a healthy baseline level of phosphorous would look like in different areas of the Great Lakes. The first suit we've announced today, which we filed in federal court in New Orleans, seeks to compel U.S. EPA to provide an adequate response to a petition for it to establish these numeric baselines on the amount of nitrogen and phosphorus allowable in the nation's waterways where states have failed to do so. U.S. EPA has said for over a decade that these standards are necessary to begin to get our arms around the problem, but the federal government has for many years let states slide on taking this step rather than confront the political powerful agricultural and industrial interests that would be affected by it. The creation of numeric baselines is a critical step, however, because only once that baseline is in place that tells you where you need to go can you begin to define the steps needed to get there.
There is also a continuing need to do whatever we can do cost-effectively to bring down the major sources of phosphorous and other pollutants into the Great Lakes. Under the Clean Water Act, U.S. EPA is required to periodically update its regulations that define the most current technology that wastewater treatment plants must use to reduce or eliminate the amount of pollution they dump in our waters. Despite this clear requirement in the law, U.S. EPA has not updated its regulations since 1985 – and they are now badly outdated. The second suit we announced today, which we filed in federal court in New York, seeks to compel U.S. EPA to respond to a petition for it to update these outdated regulations in order to raise the level of minimum standards that wastewater treatment plants throughout the Great Lakes and the country are required to meet. Raising these standards for wastewater treatment plants nationally is another critical and long-overdue step toward addressing the Great Lakes' phosphorous problem.
Both of the legal steps we are taking today are about the long-overdue requirement to create strong standards at the national and state level as an important way to advance efforts to make real, on-the-ground progress in restoring and protecting the Great Lakes.
There is no hiding from a problem so big that you can see it from space.
CORRECTION: The initial posting of this blog suggested that there have been cases of family pets having died as a result of algae exposure in some parts of Lake Erie. The post has been corrected to reflect that warnings have appeared on Lake Erie based on pet deaths linked to algae exposure that have occurred in other parts of Ohio and throughout the United States.
Comments are closed for this post.