Science Scribe: "Scientific storytelling: Using personal narrative to communicate science," from the ScienceOnline2013 Conference
Posted February 22, 2013
Tags:
One of my favorite sessions to scribe this year at ScienceOnline 2013 was the Scientific Storytelling session moderated by Jeanne Garbarino and David Manly. Using one's own perspective in science writing can seem like heresy, as we are taught in the sciences only to write in the third person. "Cultures were obtained from soil and subjected to 16S ribosomalDNA (rDNA) profiling," for example. This can make for a dry read.
But in the example above, who exactly did the "obtaining" and "subjecting"? Could we talk about the characters involved in making science without compromising the science? That's what this session was after: how to use the personal side of science to our benefit as communicators. What might infusing science stories with personal narrative do for the cause of communicating science to broader audiences?
To help everyone get ready for the session, David and Jeanne put up a collection of thoughts, questions, and readings on the ScienceOnline2013 Planning Wiki.
The Scribes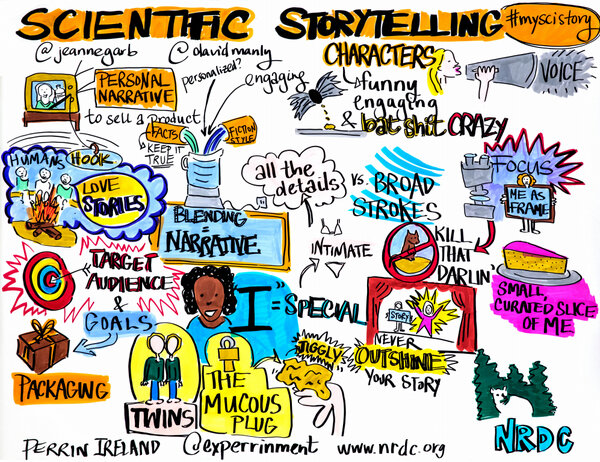 Jeanne gave an awesome, kinda gross example of using "Me" as a frame. She told the tale of the time she discovered her mucuous plug in the tub when pregnant. She shared that story on her blog with huge responses from women with similar pregnancy experiences, who might not otherwise have identified with science writing. How can we fuse fictional style with fact, and use that combination to make stories about science that others can really relate to?
My favorite part of the session was a rapid-fire exercise where in a few sentences, participants got to share their favorite personal science story based on a few prompts, like astronomy, biology, chemistry, physics, ecology, math and engineering. As you can see above, some amazing, strange examples emerged!
Check out this recent follow-up @SpotOnNYC post by David Manly and Jeanne Garbarino.
#MySciStory in Tweets
David Manly "storified" this curated collection of tweets and multimedia that the session generated: