Hearing Denial, Loud and Clear
Posted September 18, 2013
Tags:
Its hard to interpret this morning's Energy and Commerce hearing as anything but a forum for climate deniers to put their anti-science views on full display, by grilling Administration officials about what steps they are taking to protect future generations from climate change and telling them to stop.
As the Obama Administration takes up the first of its climate change solutions as outlined by the President's June 25th speech, we think its worth tuning in to this hearing and listening to what EPA Administrator McCarthy and Energy Secretary Moniz have to say.
So I'll be blogging during the hearing, and adding updates with the help of my NRDC colleagues. Watch for Twitter updates as well at the hashtag #ActOnClimate.
10:22 am. Committee Chairman Ed Whitfield kicks things off, expressing disappointment that they don't have more witnesses this morning and asking whether the administration's plan will raise energy costs. I wonder if he'll ask about how much the impacts of climate change are already costing Americans and Kentuckians. We did some of the math, and found that Kentuckians shelled out a lot of money last year to clean up after climate-related disasters - $1 billion in aggregate, or $862 per average Kentucky taxpayer, based on a recent NRDC analysis. Here's a nifty graphic to help get the message across:
10: 28 am. Way to go Congressman Waxman. Well said. I'd say more but we had a connectivity problem, so I'm just going to have to catch up with Congressman Upton.
10:31 am. Congressman Fred Upton makes the case against protecting future generations from climage change, asserting that President Obama is trying to force climate policy through the "back-door." But in fact Mr. Upton, President Obama is going through the door that Congress put in the Clean Air Act which makes EPA responsible for protecting Americans from dangerous air pollution. A door that the Supreme Court has twice ruled exists, and the EPA must in fact use.
10:38 Just gotta share this pic from inside the Hearing room...h/t to Sierra Club...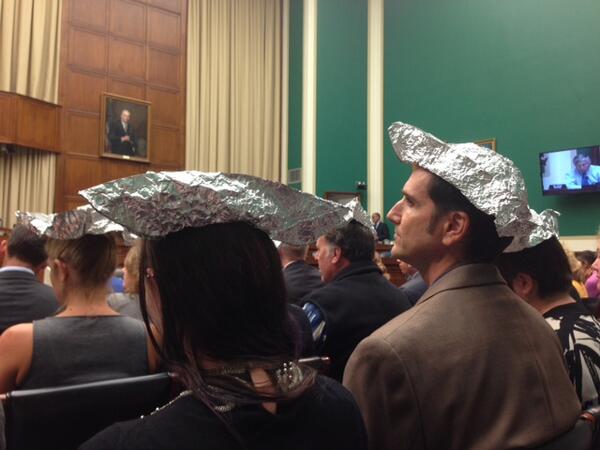 10:40 am. Energy Secretary says taking action on climate change is a matter of common-sense and prudence. Hear, hear.
10:45 am. EPA Administrator McCarthy: the last 40 years show that environmental protection and economic growth do go hand in hand.
10:52 am: Rep Whitfield blames our economic troubles on clean air. Umm....Perhaps Mr. Whitfield you should enter this page into the hearing record: http://www.epa.gov/air/sect812/economy.html and then read it...
Rep Whitfield: clean air means people live longer, and creates new economic opportunities as well. Kentucky is creating jobs in #energyefficiency: GE announced efficiency-related 1,000 jobs in Salem in 2012. For more see: http://www.courier-journal.com/article/20120209/BUSINESS/302100009/Production-heats-up-for-new-water-heater-at-Appliance-Park?odyssey=tab|mostpopular|text|FRONTPAGE&nclick_check=1
Rep Waxman to Republican colleagues: Its easy enough to criticize what others are doing, but what's your plan?
Or as my colleague David Doniger tweets: .
How many Republicans does it take to screw up a light bulb? #ActOnClimate
— David Doniger (@ddonigernrdc) September 18, 2013


11:09 am. NRDC President Frances Beinecke blog on this morning's hearing: http://switchboard.nrdc.org/blogs/fbeinecke/misguided_house_hearing_on_cli.html
11:12 am. Small businesses are worried about the mounting costs of climate change. Here's an oped from one in South Carolina: http://thehill.com/blogs/congress-blog/energy-a-environment/322787-climate-costs-rise-like-sea-levels-with-delayed-action-on-climate-change
Unfortunately, I've got to run. Secretary Moniz and Administrator McCarthy continue to do an outstanding job addressing the questions of the committee.
My colleagues will continue to moniter the hearing on Twitter:
https://twitter.com/ddonigernrdc
https://twitter.com/search?q=%23actonclimate&src=hash
Comments are closed for this post.